Two Of The Best Blues Guitar Lessons Online
Hello my esteemed guitar students, welcome to the July, 2020 edition of our post on the 2 most popular  courses which are supplied by GuitarTricks.com and Truefire.com
Every month, I like to dig into Google Analytics and analyse what's been happening on the site, what you guys have been learning, and so on. I share this info with you each month hoping that it will motivate you in learning new songs or maybe even blues guitar lessons
Lots of students, just like you, are learning songs on TheBluesGuitarist.net at this very moment. Learning new songs and techniques is a great way to keep your guitar studies interesting, and it will help you become a better player.
If you already know how to play a few songs, that's fantastic. Never stop learning new ones though, otherwise you will stall and not get better.
Now let's have a look at the most popular guitar song then we will dive into the best blues guitar lessons online.
5 most popular tracks of August, 2018
5. One Love – Bob Marley
What better way to start off the list than with a classic Bob Marley song. This one will give you a great barre chord workout, so if you are struggling with barre chords, make sure you learn to play One Love. It is made up of barre chords from beginning till end. I know that doesn't sound too motivating to a lot of you, but keep in mind that barre chords were hard for everybody at some point. Just like all other guitar techniques, they will get easier with practice.
4. Smoke on the Water – Deep Purple
The Smoke on the Water riff is one of the first riffs electric guitar students learn. It sounds great, and it's not that difficult to play. Have you ever stopped to think about the fact that one of the greatest riffs of all time is actually a very simple riff? This just goes to show you that no magic fingers or lighting moves are needed to create great music.
3. 12 Bar in E
How interesting, this style was in the same position last month. I guess you guys are really digging this style of playing, which is awesome. I have lot of 12 bar lessons on my site, so if you want to dive deeper into the genre,  I compare 2 courses and give you my recommendations just towards the end of this post, so it's worth checking out.
Click Above For Friends Theme Song Guitar Lesson
2. I'll Be There For You – The Rembrandts
I was in high school when the TV show Friends was all the rage. My buddy, Tyler, would rent the newest season, and we would binge watch each tape. Oh yeah, they had tapes back then. Most kids don't even know what tapes are

The theme song to the series was understandably a huge hit, and it seems many of you still want to learn it. Good on you! It's loads of fun, and the cover below is very authentic, even for a single guitarist.
1. Someone Like You – Adele
And the winner, the most watched, top number 1, best song this year is…..
An Adele song? Well, that's a first

Don't get me wrong, I think it's a nice song, but I wouldn't have thought it would ever be the most watched one. Maybe there was some Adele news out there in 2018, don't know. Anyhow, this is a great song to learn even for beginners, so if you don't know how to play it yet, here is your chance.
Hope you found a few songs to practice in the list, remember to practice a lot, that is key to getting good at guitar. If you have any questions, comments, requests, please let me know via email or the comment form.
*******************************************************************************************************************
GUITARTRICKS LESSONS
GuitarTricks.com is a real heavyweight in online
blues guitar
lessons. In fact, being established in 1998, it was the first site to offer video guitar lessons on the internet.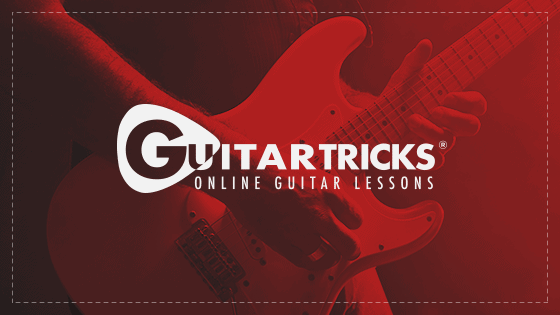 The guitar lessons offered by GuitarTricks can be split into 3 main sections.
Style course (Level 1 and Level 2)
Songs
Mini courses
Let's have a look at each.
Style Level 1 & 2 (Core learning system)
The core learning system is GuitarTricks.com's recommended path for learning guitar. After the fundamentals, you have the chance to learn the intricacies of blues, country and rock.
The  style course is made up of 2 segments: Check them out here –> Level 1 and Level 2.
Each Level is split into Chapters, and each Chapter is split into a series of tutorials revolving around a given topic.
This sounds weird written down, but it's actually very intuitive:
When you look at the table of contents, you can immediately see the amount of thought that went into structuring the course.
Each lesson builds on the prior, and as a guitar teacher of 15+ years, I can't think of any blues skill/technique I would teach to aspiring blues players, that is not covered within the course.
It is safe to say that completing GuitarTricks's blues style lessons will get you to an early-advanced level of playing.
Level 1
Chapter 1: 12 bar, blues shuffle rhythm, turnarounds, chord voiceings
Chapter 2: power chords, barre chords, playing in different keys
Chapter 3: minor blues, minor chords, dominant chords, 12 bar variations
Chapter 4: various strumming patterns and grooves, intro to regional rhythm styles
Chapter 5: lead techniques, the blues scale
Chapter 6: getting a tone on various guitars & amps, and the effects you would use
As you can see, Level 1 covers basic concepts and techniques. Once you are comfortable with these techniques, you would turn things up a notch and move on to the next level.
Level 2
Chapter 1: more lead guitar, building riffs, playing in different keys, minor scale, jamming
Chapter 2: the styles of Albert King, B. B. King and Freddie King
Chapter 3: Phrasing, call and response, differing vibrato styles, bending concepts
Chapter 4: Targeting chord tones, playing with a slide, blues mixed with other styles (jazz, rock, reggae, funk)
Chapter 5: advanced rhythm, various turnarounds, 8 bar riffs
Chapter 6: regional styles (Jazz, Delta, Chicago, Texas, New Orleans, British)
All lessons in the blues style courses are taught by Anders Mouridsen, who is one of the best teachers on GuitarTricks.com. His calming personality is mixed with his enthusiasm for the guitar, which makes the lessons very enjoyable.
Blues song tutorials
After tackling the blues core learning system, what better way to practice and refine your newfound knowledge than to learn to play popular songs?
GuitarTricks has an impressive collection of lessons on Blues Songs Collection Click Here. Choose from many classic and contemporary Artists. At the moment I counted about 100 songs in the list from artists such as:
BB King
Stevie Ray Vaughn
Eric Clapton, T-Bone Walker
Muddy Waters
Robert Johnson
Howlin' Wolf
Albert Collins
The Allman Brothers
Seeing how the masters use all the blues techniques you learned in the Level 1 and Level 2 blues style sections will help put it all together and move you forward.
Mini courses
GuitarTricks has a bunch of what I would call "mini courses"  for beginners on various guitar styles, including the blues.
These mini courses Click Here are taught by different teachers, and are relatively short in length. Around 5 to 30 minutes, depending on the course.
These are great for quick practice sessions when you don't really have enough time to dive into something too deeply.
What kind of mini courses will you find?
Riffs
Rhythm techniques
Orchestration
Using major notes in minor pentatonics
and so on…
Pros of GuitarTricks's lessons
Well structured for beginner to intermediate blues players
Great collection of real blues songs to learn
Fun jam-along videos
2 week

Free Trial

Click Here

 

yippie ?
Cons of GuitarTricks's courses
No really advanced material
Few acoustic fingerstyle lessons
A few of the mini courses must be older and thus are not HD
=====================================================================================
TrueFire Guitar Lessons
TrueFire.com
is an absolute monster website, with more guitar lessons than anybody could ever go through. They offer many individual courses in all genres and difficulties.
The company was founded in 1991, and they initially released lessons on tape and DVD. Than came the Internet.
TrueFire has an immense number of guitar lessons. At the moment of this writing, it has 177 courses full fledged blues guitar courses with almost 14,000 individual lessons in them.
Picking out each course of interest is useful for advanced guitarists.
"Blues Guitar Learning Path"
Beginner guitar players are offered a more structured way of learning, called the "Guitar Learning Path". Below you will find links to these 4 core courses.
If you already know several chords and strumming patterns, and can also play some songs and single note lines, then you're ready to take on this quick-start guitar course.  
About TrueFire's Play Blues Guitar 2: Rhythm & Lead Fundamentals Learn Blues Guitar Rhythm & Lead with this Learning Path Core Course
Guitar 3 Learning Path
This Learning Path core course is presented by 3 top TrueFire educators: Jeff McErlain, Corey Congilio, and Jeff Scheetz.
They'll guide your development of the essential skills and get up and running quickly — no reading music, no boring exercises, no tedious theory to struggle through. In fact, you'll play your way through the entire course.
This Blues Learning Path core course is presented by 7 top TrueFire educators: Robben Ford, David Grissom, Jeff McErlain, Corey Congilio, Jeff Scheetz, Matt Brandt and Brad Carlton.
The Rhythm Principles curriculum is comprised of select guitar lessons from the educators' existing TrueFire course libraries.
Click Here To View Play Guitar 4
All these Learning paths are made up of 4 stage, with lessons increasing in difficulty. Each stage is made up of "core courses" and also "supplementary courses".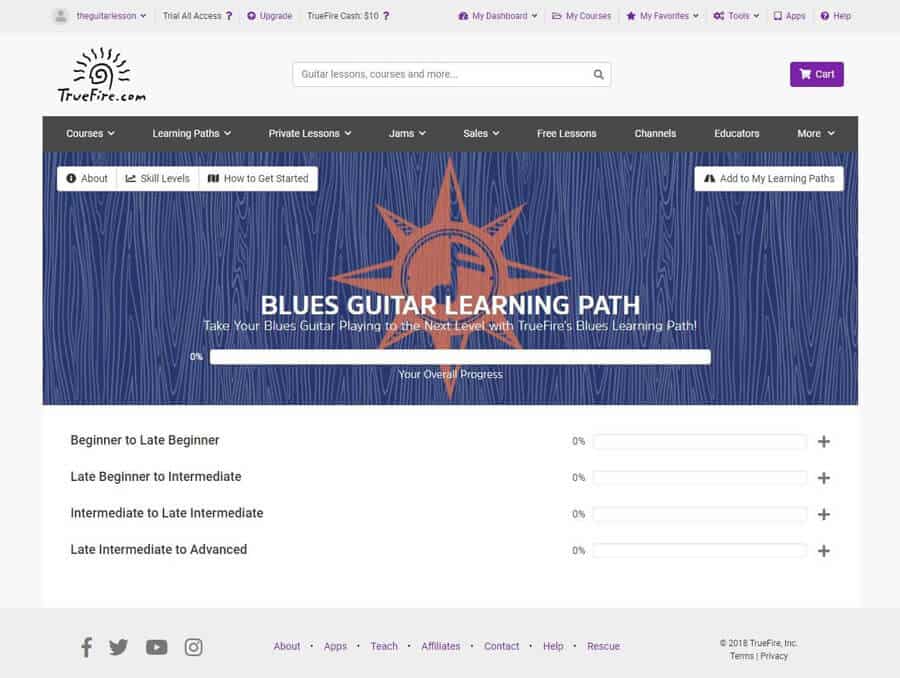 FYI the core courses are lessons that build fundamental guitar knowledge and skills, while the supplementary courses are stand-alone courses digging deeper into specific blues guitar aspects, like Click Here For Jazz blues progressions, or Click Here For 30 blues Americana guitar licks.
Stage 1: Beginner to Late Beginner
This stage isn't blues guitar specific. It teaches basic guitar skills to beginners, so I'm not sure why it's even included in the path.
Anybody looking to learn a specific genre of guitar should have a sound knowledge of the basics already.
Stage 2: Late Beginner to intermediate
This stage of TrueFire's blues course covers basic blues guitar concepts and techniques. If you don't know anything about guitar, this is a good place to start.
Quick start for beginners: blues shuffle, 12 bar, 7th chords, turnarounds
Rhythm and lead fundamentals: soloing basics, minor pentatonic scale, blues scale, 7th barre chords, 9th chords
Tools and techniques: all 5 patterns of the minor pentatonic scale, licks, major pentatonic scale, more turnarounds, and in specific styles (rhumba, minor, funky)
TruFire gives several recommended supplementary courses with stage 2. The ones that are blues specific any I would recommend a beginner student to cover are:
Stage 3: Intermediate to late intermediate
The next stage of this course builds onto stage 2 and provides more examples, rhythm patterns, licks and techniques.
It's important to note that unlike the stage 2 lessons, the lessons in this stage were not developed specifically for this blues course. They are actually individual lessons picked out of their massive library of existing courses, and presented in a structure that help build your blues skill-set one lesson at a time.
Rhythm principles: slow blues, 12/8 rhythm, 12 bar shuffle variations, styles (boogie woogie, rhumba, funky, New Orleans, country)
Rhythm approaches: more rhythm studies, rhythm techniques with loads of example grooves
Lick vocabulary: building your own blues licks using the minor and major blues scales, mixing the minor and major blues scales, more lick examples, texas blues licks
Lick lexicon: licks to use over the I & IV & V chords, loads of blues licks
Soloing principles: soloing concepts and techniques, hybrid picking, solos in differing blues styles
Soloing approaches: double stops, adding chromatic notes, call and response blues, loads of soloing examples
Slide approaches: the specifics of playing slide guitar in the blues, licks
Fingerstyle approaches: acoustic guitar, fingerstyle essentials, lots of example licks and patterns
There are a lot of supplementary courses recommended by TrueFire with stage 3, most of them blues specific. They entail specific courses on blues licks, soloing, rhythm and theory. I won't be listing all of them here, you can see them for yourself on TrueFire.com.
Stage 4: Late intermediate to advanced
As in stage 3, the core courses of stage 4 are a collection of individual lessons from other TrueFire courses. They were picked and structured to advance your blues skills in a logical manner.
If you learn everything in this set of core courses, you can call yourself a professional blues guitar player.
Advanced rhythm principles: guide tones, comping, jazzy blues chords and rhythm
Advanced rhythm approaches: funky blues, advanced rhythm ideas
Advanced lick vocabulary: advanced licks, "in the style of" lessons
Advanced soloing principles: jazzy blues soloing, diminished scale, advanced improvisation
Advanced soloing approaches: more soloing examples, motivic development, altered scales
There are many blues specific supplementary course recommendations with these courses as well, some of which are very advanced.
Pros of TrueFire's blues lessons
Absolutely massive knowledge bank of blues concepts
Covers all areas of blues guitar
Supplementary courses provide deep insight into specific topics
Cons of TrueFire's blues lessons
The stage 3 and 4 core courses are a collection of lessons from existing courses
Some older lessons are not HD
Lesson pages and video player loads the slowest our of the 3 companies reviewed
Not enough "in the style of" lessons in case you wanted to learn the specific style of BB King for example
No tutorials on specific blues songs
Sign Up Below For More Info About Truefire Guitar Online Tuition
[newsletters_subscribe list="15″]